Football leader's career path as fitness trainer serves as example for others
This paid piece is sponsored by GreatLIFE Golf & Fitness.
Bet you didn't know this: The quarterback of the Sioux Falls Storm could be your next personal trainer.
"I've been a trainer since I got out of college and have been transitioning into a professional athlete, so when I'm not playing with the team, fitness is just a part of my life," said Taz Wilson, who moved to Sioux Falls earlier this year from Atlanta.
It led him to look for opportunities in his new home beyond the football field.
"I was thinking about finding a way to do what I still love when the season is over," he said. "I came across GreatLIFE online and started looking it up and seeing all the great things they do – golf courses, bowling alleys and how they cater to families – so I said, you know what? This would be a good fit for me. Fitness with children is something I've become really passionate about."
GreatLIFE agreed, reaching out to Wilson less than 24 hours after he applied to be a personal trainer.
He began at the GreatLIFE Performance Center a few months ago.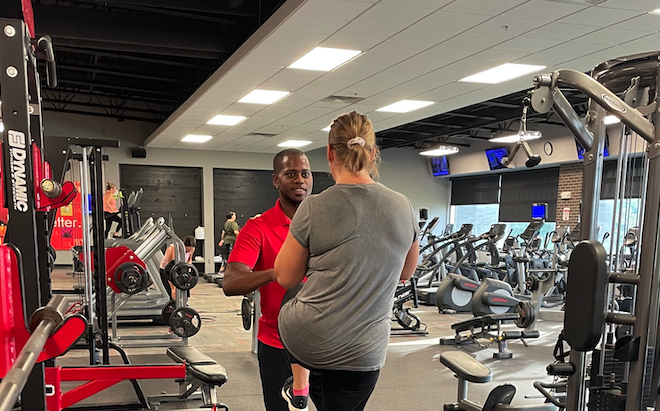 "When you step into a new environment as a trainer, it's always tough," he said. "But the biggest thing with their business model is how GreatLIFE helps you along the way. In my first 30 days, I was able to generate significant earnings, and my first few clients came from my boss. And when I train, I'm always out in the open and finding ways to assist others."
GreatLIFE is hiring additional personal trainers. These full-time but flexible positions involve motivating and supporting members and colleagues, along with coaching new members through the GreatSTARTS program, designing and implementing science-based programs for members and clients, and providing basic nutrition information for maximum results.
"We provide a high level of support for our trainers from the beginning throughout the career," GreatLIFE president Nick Ovenden said. "We know we need to invest in our people, and we take their personal and professional growth seriously."
A fitness trainer also can move into the role of fitness specialist within three months, leading to opportunities to advance as a senior fitness specialist, team lead and fitness manager.
"And we have extremely competitive benefits with health and paid time off, and if you're working independently, you're likely not going to have that," Ovenden said. "We're fortunate because we have a lot of usage, so there are opportunities to meet and greet people and grow your network."
Plus, you'll have support from your co-workers, he said.
"You're not on an island by yourself because that can get tough. It's nice to be able to bounce ideas off your team members and get reenergized."
That's what Wilson has experienced.
"I definitely like the other trainers," he said. "I feel like if I couldn't make a workout, they could work with my clients, and they would get the job done."
It's a great spot to build your career, he added.
"I just had this conversation with a young lady. If you're looking to get into this field, this is a great place to start off. They do a great job with foundational skills, and we do a monthly success clinic where the trainers come together and hear a keynote speaker and learn together," Wilson said.
"I just introduced my own total optimization class after seeing a need we could meet, and I brought my ideas, and the higher-ups supported me, and we rolled it out. This field is all about growth. How can you grow your client base and your brand? And GreatLIFE gives you that opportunity."
Trainers can come from a variety of backgrounds, Ovenden added.
"What we want to see if a passion for fitness and helping people," he said. "We can teach the tools. So we hire for attitude and train for skill, and we have pathways to certification and working on continuing education."
Ultimately, it's a rewarding career, both said.
"Most people get in this field because they want to help people. Clients come to you because they want to see you, they want to make a change," Ovenden said. "Some of my best lifelong friends are people I've trained and other trainers I've worked with. You become a family, and it's very rewarding."
For Wilson, it has been the perfect off-the-field fitness connection.
"GreatLIFE has the best business model I've seen," he said. "From the way they structure your commission as a trainer coming in the door to how you don't have to be a member to do personal training. I've never seen that in a gym. There are just so many things I love about GreatLIFE."
To begin your GreatLIFE career journey, click here.
And to connect with your own personal trainer, stop by any GreatLIFE location.