If the early season is any indication, get ready for a huge year of golf ahead.
"We had our best May ever for rounds of golf since GreatLIFE started," vice president of golf Jason Sudenga said. "It's been amazing. The last three weeks have been perfect weatherwise, and if the weather is nice, golfers are going to be out there."
With a little planning, you generally can secure your tee time of choice on the GreatLIFE-owned courses throughout the Sioux Falls area. But when you're looking to change up your game, there are 10 affiliate courses not far from Sioux Falls where GreatLIFE golf members can play for free.
"There's a really good variety," Sudenga said. "We have some members who go around and make it a point to play every affiliate course because they want to check them all out."
For instance, head to Hidden Valley Golf Course in Brandon for a par-3, 18-hole course that's "very family-friendly," he said. "It's' a great course for kids or anyone to learn on because the holes aren't as long and it's very playable."
Cattail Crossing Golf Course in Watertown offers more of a championship course that's "a little longer course and a more parkland course and a nice option for those of all abilities looking to play somewhere different," Sudenga said.
The Bridges at Beresford is a popular nine-hole option that's "an awesome little course that's always in really good condition," he continued. "It's a gorgeous setting and one of our more popular affiliates."
And golf a bit earlier or later in the season at The Bluffs in Vermillion, an 18-hole championship course "that's very popular, especially because it allows golfers to extend the season a bit," Sudenga said.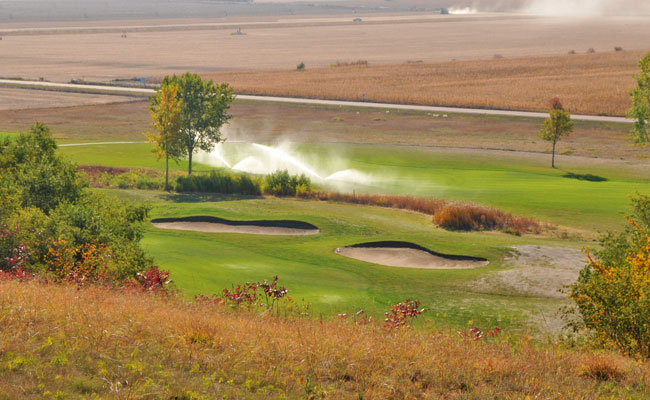 Here's the full list of affiliate courses:
Cattail Crossing Golf Course  in Watertown
27 holes
Cart fee required
The Bluffs in Vermillion
Madison Golf and Country Club in Madison
18 holes
Cart fee required
Hidden Valley Golf Course in Brandon
The Bridges at Beresford in Beresford
Par Mar Valley Country Club in Parker
Wild Oak Golf Course in Mitchell
McCook Country Club in Salem
Parkston Country Club in Parkston
Sunrise Ridge Golf Course in Colman
Tips for members
GreatLIFE members, if you golf the affiliate courses, here are some reminders:
Key fob: Have your GreatLIFE fob available to scan when you check in at the clubhouse.
Golf course: Treat the course as though it were your own. Fix ball marks, replace divots, follow signs for golf carts and keep carts 30 feet from the greens and on the cart paths around the tee boxes.
Food and beverage: Remember, there's no outside food or beverages allowed at the affiliates. But there are many great options at the courses themselves and in the communities you'll be visiting!
Respect: Of course, always treat the course staff with GreatLIFE values of courtesy and respect.
Golf cart and driving range memberships do not transfer over to the affiliates. You will have to pay the appropriate fees to hit range balls or to ride in a cart. New this year: If you play at Madison Golf and Country Club or Cattail Crossing Golf Course, you will be required to purchase a cart.
Fitness-only offer
GreatLIFE fitness-only members don't have to miss out on golf either. On Monday and Tuesday, they can play for free at GreatLIFE's Central Valley in Hartford, Rocky Run in Dell Rapids, Worthington Golf & Fitness Club in Minnesota and Fox Run in Yankton.
Father's Day play
GreatLIFE's popular Father's Day scrambles will be returning this year June 18 at Willow Run and Rocky Run. Register through the GreatLIFE app.
To learn more about golf at GreatLIFE, click here.