GreatLIFE leaders talk trends, new additions, what's next
Walk into a GreatLIFE fitness center in the middle of a weekday afternoon, and it's going to look different from two years ago.
"People are working out at different times of day now," president Nick Ovenden said. "Before, if you went between 1 and 3:30 p.m., you wouldn't have many others working out there. Now, our trending for usage is roughly the same as 2019, which is great, but the fitness centers in general aren't as busy before and after work."
It's a similar story at GreatLIFE golf courses.
"Our rounds are still up as they were last year," Ovenden said. "I think with the ability for more people to work remote and have more control over their schedule, it's opened their ability to golf during the day. That has let them get more rounds in, and the courses aren't as jammed in the peak times."
GreatLIFE's model allows that flexibility at all times. Whether it's a few holes of golf when you can fit it in or unlimited rounds that fit your schedule, it's all covered by your membership, offering access to nearly 20 fitness centers and 17 golf courses.
And memberships, too, are getting used more as people discover the huge variety of ways to use them.
"For sure," Ovenden said. "We're seeing more people utilize our golf courses who have not in the past – it's people you've seen at the gym who are starting to golf, and often they've connected to the sport on Monday and Tuesday when golf is free for fitness members at Central Valley, Rocky Run and Fox Run."
New additions
GreatLIFE began the year with a new CEO, Tom Walsh Jr., as Tom Walsh Sr. transitioned to a role leading the GreatLIFE Cares Foundation, which supports a variety of causes related to the company's mission.
"We're a lifestyle company, and we know our people feel proud to be about something that's bigger than golf and fitness," Walsh Jr. said. "We're making a difference in the community. Whether it's our PLAY Everything program — our coaching and mentoring piece — helping with GreatLIFE Cares or the many individual ways our people get involved, we're always mindful of the fact that being on our team is about more than just a job."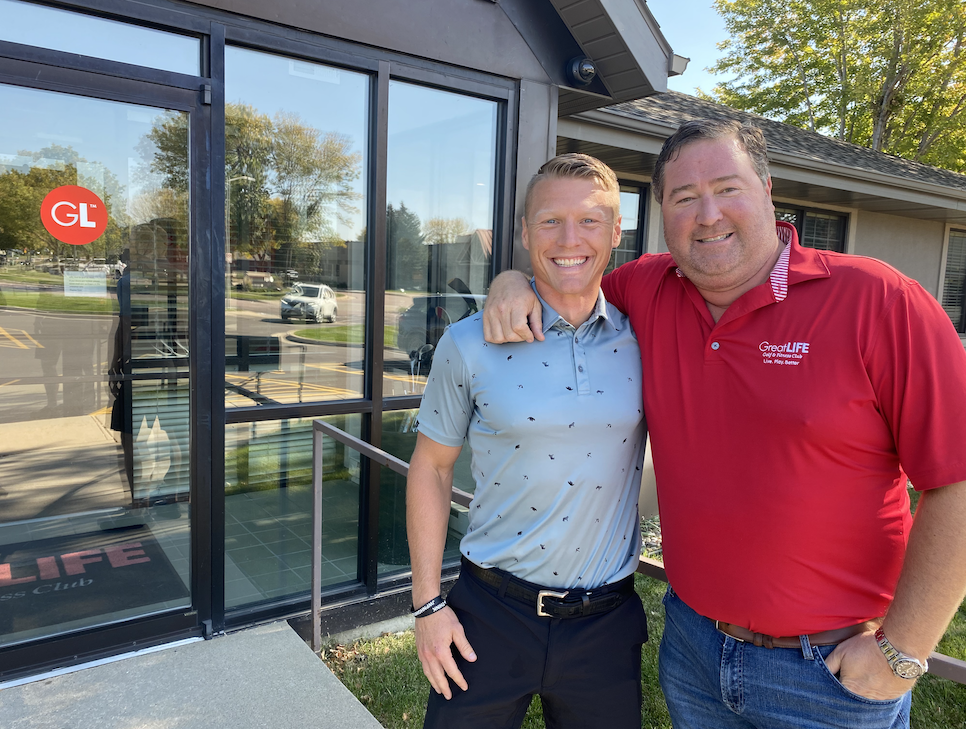 Nick Ovenden and Tom Walsh Jr.
Walsh's leadership priorities have included honing operations to support GreatLIFE's rapid growth.
"We grew very quickly for years and now are investing in people and programs and equipment," he said.
"And we're listening to our members' feedback and continuing to work on offering them exactly what they're looking for from us in terms of flexibility and benefits."
On the program side, there are continual new additions.
If you're a fitness member who lives or works downtown, don't miss the opportunities at the GreatLIFE YMCA fitness center.
"We have racquetball and a steam room, which are unique to that location, and if you work downtown and want to fit in a workout, remember the fitness center is there and has nice showers, plus you can use the basketball and racquetball courts during the day," Ovenden said.
"And then our partnership with EmBe downtown also allows them to host our members for aqua aerobic and paddleboard classes, and that schedule has increased."
Other additions include new men's lockers at the Performance Center and continued new class offerings such as Total Body Optimization, led by Sioux Falls Storm quarterback Taz Wilson, and the Awaken mindfulness series led by Molly McGee and GreatLIFE's first certified health and wellness coach, Kristen Koeller.
"We think it makes a ton of sense to empower our team members to fill a need they recognize and are passionate about," Ovenden said. "We have roughly 40,000 members with a huge range of needs, so if there's a way to connect and make life better for them, we're going to give it a shot."
The new Revitalize by GreatLIFE massage area at Woodlake also has been a hit and just added a fourth massage therapist.
And, for the rest of October and November, all members who purchase unlimited hot studio receive access to the GreatLIFE Recovery lounge for free.
Golfers also find ongoing new options at GreatLIFE. This season marked the start of the GreatLIFE Golf Academy, which offers training for all ages, including programs designed for women and kids.
"When you think about longevity for the sport, it's all about having kids excited, and we've had a lot more kids involved in golf," Ovenden said. "Our junior golf camps are completely full, which is a huge sign to say this is around to stay."
Kids are finding it more fun than other activities, and parents appreciate the no-contact nature of the sport, he added.
"And it's a lifelong activity," he said.
This off-season will bring 50 new carts to Willow Run Golf Course, updated carts at Rocky Run and year-round access inside the Academy, where there are three bays for hitting no matter what the weather.
Plus, GreatLIFE continues to add corporate partners and member benefits. Members save on countless areas of their daily life, from dining and home improvement to travel and professional services.
And corporate partners benefit from offering GreatLIFE memberships to their workforce – a benefit especially key in a competitive workforce environment.
"We have so many valuable relationships, and many people likely don't realize that," Walsh said. "But we want to make sure not only are our members taking full advantage to everything available to them, but our fellow business leaders realize what working with GreatLIFE can deliver for their workforce."
Hiring and future growth
At the height of its season, GreatLIFE counts more than 500 team members.
And hiring is ongoing. Click here for a look at open positions.
There's a need for everyone from trainers to food and beverage team members.
"We're looking for people who want to serve other people," Ovenden said. "We can train you to do the jobs we need you to do, but ultimately we want people who want to help out and have a great attitude and work as part of a team."
While GreatLIFE's reach already is broad, "we'd like it broader," Walsh added.
"We have opportunities every day. We had someone reach out just the other day. But we need to find the right person or the right people, for instance, to go to the western side of the state. That would be a big addition, but it's not something we're going to rush into."
While golf and fitness make the base of GreatLIFE, the company is about more than that, Ovenden added.
"There are a lot of pieces of the puzzle that need to fit before we go into a market, including culture," he said. "We have to make sure whoever we work with is bought into that because they represent us. They're GreatLIFE to the people around them. And the last thing we want to do is put our name on something we're not proud of."
Ready to join GreatLIFE? Sign up now, and pay no enrollment fee.Click here to learn more. 
https://greatlife.clubautomation.com/user/edit?id=134547&cid=memberships