How to make the most of the last weeks of golf season – and beyond
Oct. 17, 2023
How much has the Sioux Falls area loved golf this year?
Consider this: Rounds at GreatLIFE Golf & Fitness are trending up 10 percent over last year – and there wasn't even an option to golf in April.
"That's pretty incredible," director of golf operations Jason Crisp said. "We're seeing tons of new golfers and lots of new GreatLIFE members, and we're not done for the year yet."
When will it be done? It all depends on Mother Nature.
"There have been years when some of our courses were open in December, and there are times we've had to shut down the first week of November," Crisp said. "It looks like this week we'll be into the 60s, so we still have some play."
Here's what to know though.
Fall mornings often bring frost, and when you walk on frozen grass on the golf course, the grass blades will break.
"That's not repairable," Crisp said. "Think of it like breaking eggshells. You will see long-term damage, and eventually the grass will wilt, turn a purple brown color and die."
So if you're out for a morning round in the weeks ahead, just check in with the pro shop first, he said.
"Sometimes, people think it has to be 32 degrees to cause frost, and it doesn't," Crisp said. "It can be in the low 40s, which we're seeing a lot lately, so just check in and they will let you know when it's safe to play."
When you do, you'll discover "the courses are in fantastic shape," Crisp said. "The superintendents and grounds teams are doing an amazing job. All the greens have been aerated, and right now it's growing season, even though it's colder and windy. The grass is growing at an incredible rate."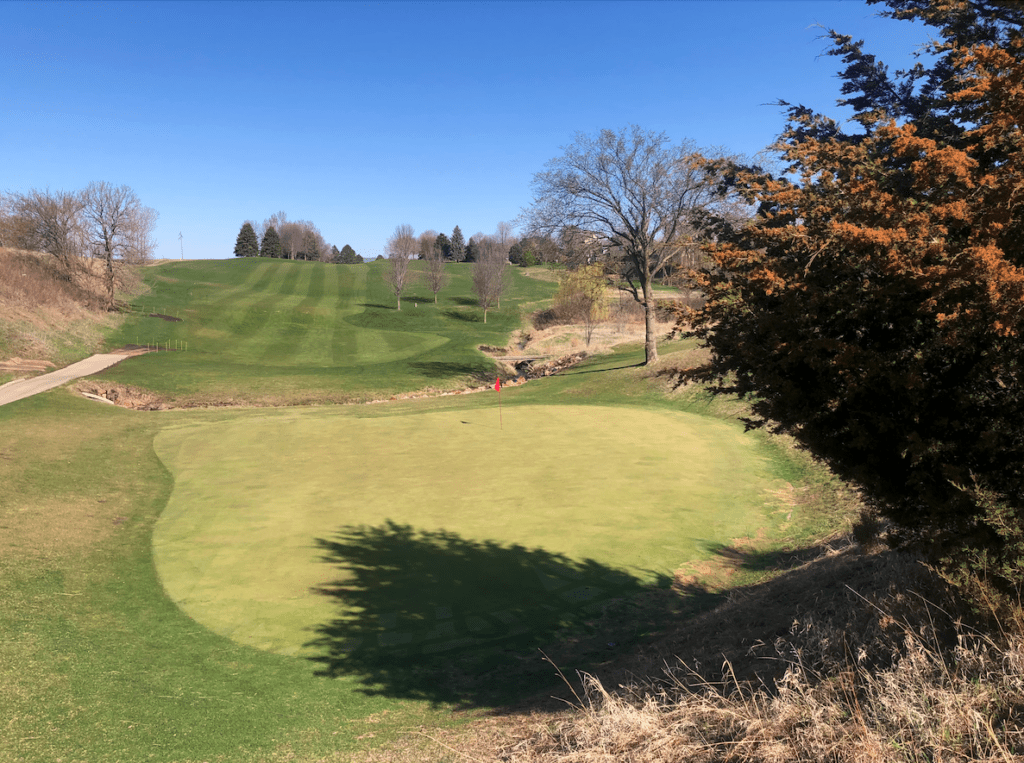 If you play Rocky Run in Dell Rapids, you'll also notice an improvement on the 16th hole.
"The ground underneath the front of the green was eroding, and the green had become very sloped, so we took off all the sod and put in 14 inches of sand to level it out, and we replaced the sod, so right now, there's a temporary green in the middle of the fairway," Crisp said.
"By the time we get to spring, it will be a great experience. That was always one of the hardest holes to set a pin, so traffic became an issue and putting became challenging, so we're excited about that."
Here are some other things for golfers to keep in mind in the coming weeks:
Use your pro shop credit
It's that time: Your pro shop credit expires at the end of October, so make sure you use it up.
"The pro shops are well stocked, and your credit is good at all GreatLIFE pro shops," Crisp said. "If you need something and it's not in stock at your shop, we can deliver it there, so ask at the store."
Simulator season is starting
You can golf year-round at GreatLIFE Suburban Lanes, including in league play.
"We also updated the software in the simulators, and it's a great upgrade," Crisp said. "We have some two-person leagues, and it's structured the same as it is in the summer. Get your teammate, record your score and you can win pro shop credit."
Leagues start in January and run until early April, but stop in and start working on your simulated game anytime. Click here to learn more.
Time to up your game
GreatLIFE's Golf Academy never takes an off-season, and actually this is the best time to work on your game.
"All the programming here is offered through winter," Crisp said. "They'll do individual and group lessons, plus this is fitting season as people prepare to use up their pro shop credit. Fall is always a popular time for updating your equipment."
New this year: A GEN2 program for younger golfers, meant to bridge the time between beginners and those looking toward high school and college.
Click here to learn more about the Golf Academy.
Head out of town
Not ready to give up time on the golf course in the months ahead? Remember, GreatLIFE partners with Thompson Golf Group to offer discounted rounds at outstanding courses in Arizona.
The partnership even can deliver an international experience.  Thompson's Travel Group is offering a European golf cruise, which promises to be an unbelievable blend of golf and culture. The seven-night cruise goes from Budapest, Hungary, to Vilshofen, Germany, and stops at four golf courses. GreatLIFE members enjoy a discounted rate. Click here to learn more.