Think there's no way five weeks could profoundly change your life?
Wait until you hear what these three people have to say.
They're among the first to participate in AWAKEN at GreatLIFE, a five-week program focused on helping you "awaken" your potential by rewiring your brain for a better, healthier mindset.
"If you're looking for a change in your life, this is the first step," said Molly McGee, who oversees food and beverage at Bakker Crossing Golf Course and came up with the idea for AWAKEN.
The program became a partnership between her and Kristen Koeller, a member experience coordinator ​and group fitness instructor.
"I thought I could solve all my problems if I ate healthy and exercised," Koeller said. "As much as they recommend that would fix anxiety and depression, that didn't work. What worked was working on my mindset and the negativity I carried for so long and rewiring my brain to see the positive. That changed everything."
AWAKEN, which runs each Monday and Thursday morning ​for four weeks, begins its next session with new participants April 1 with a kickoff meeting at 6 p.m. After that, it's from 6 to 7 a.m. through May 3 at Bakker Crossing. Participants will be exposed to:
Yoga and guided meditation.
Tools of transformation.
Group discussions.
Online support.
"My experience was amazing and very fulfilling," said Jeanne Strutz, who was part of the first group. "The most beneficial has been all the tools I will be able to take with me to take care of my mind, body and soul."
She was interested in the program as a way to add some self-care to her life.
"I have always been interested in meditation and yoga and have spent some time with yoga but knew that I had a lot to learn," she said. "I was also intrigued by how music, journaling and breath work fit into establishing routine. The topics of affirmations and intentions and introducing those into my life was also very intriguing. I felt like this would be a good way to communicate and get to know others that had the same interests as well."
Brent Venenga was looking to break out of his comfort zone. He wakes up early naturally anyway, was interested in yoga and meditation and felt he had become too negative and wanted to make a change.
"I've had a fantastic experience, and it has exceeded my expectations with what I was going to get out of the program," he said. "The two leaders of AWAKEN, Molly and Kristen, have been amazing since the first session. Both of them have dealt with personal challenges in their own lives and want to help you with becoming a better person."
Richele Harms had been listening to podcasts and reading books about the power of mindfulness and using the brain to heal the body. She saw AWAKEN as a way to try out what she'd learned.
"I really enjoyed the program and learned so much! Each week focused on a different topic, so I had the chance to try some things on my own and see what resonated for me," she said.
"It's been great to have that exposure to these practices and learn from people who have implemented them and experienced the positive benefits. I felt like I was pretty well-versed in some of these areas, but this really opened my eyes to the wide array of tools that are out there. The yoga techniques and meditation used were really fun. I loved trying something new each week."
We asked each of the participants to reflect on the program and offer advice to others considering it.
How did it change you?
Strutz: I very rarely took time to meditate, spend time on affirmations, intentions and journaling previously. Adding these items to a routine of other healthy choices has given me the encouragement I need to continue down a healthy path. I have gotten back to focusing on my health, fitness and nutrition, which was something I had lost sight of a bit over the last few months. Overall, it gave me the confidence I need to tell myself it is OK to spend time on myself, to slow down and just take those moments during the day to remind myself of my intentions and affirmations. It is also amazing how changing your mindset and incorporating the tools they provide can have such a positive impact on my health and well-being! Just amazing!
Venenga: I feel I've become more positive about dealing with situations and also realize it will take hard work on a daily basis and things aren't going to automatically change in your life unless you take personal accountability and set personal intentions to better yourself.
Harms: This program has helped me to take purposeful time for myself every day. In this crazy, task-driven world we live in, it was so powerful to stop, breathe and focus on my goals, things I'm grateful for, and reframe my mind for positivity. I really struggle with seasonal depression, and the timing of this program could not be better. It's given me the tools to maintain a positive mindset along with the support of the group. While every day is not sunshine and rainbows, all of these tools have helped shift my thinking.
What would you tell others considering the program?
Strutz: Be open-minded, try something you have never tried before, take the leap, and sign up! You will not regret it! You will gain tools and resources to make changes in your life that will be positive, uplifting and healthy. You will be so surprised how little changes can have a huge impact. You don't have to make huge changes to feel the positive impact it will have. You will learn what works for you and be able to take that forward in your life journey.
Venenga: I would say "go for it!" It isn't a big time commitment. The leaders of AWAKEN, Molly and Kristen, are passionate about helping you and sharing the tools they have learned for you to succeed. Along with Kyla teaching you yoga, sharing her own journey is also amazing. Finally, Jeff sharing his path towards meditation and teaching it is well worth your time.
Harms: Take the first step out of your comfort zone and try it. You will find wonderful coaches who practice these techniques in their own lives and have experienced the benefits firsthand. If you participate with an open mind, you will find something that resonates with you. You can change the trajectory of your day and possibly your life.
What's next
The first participants bonded so well they plan to continue meeting weekly.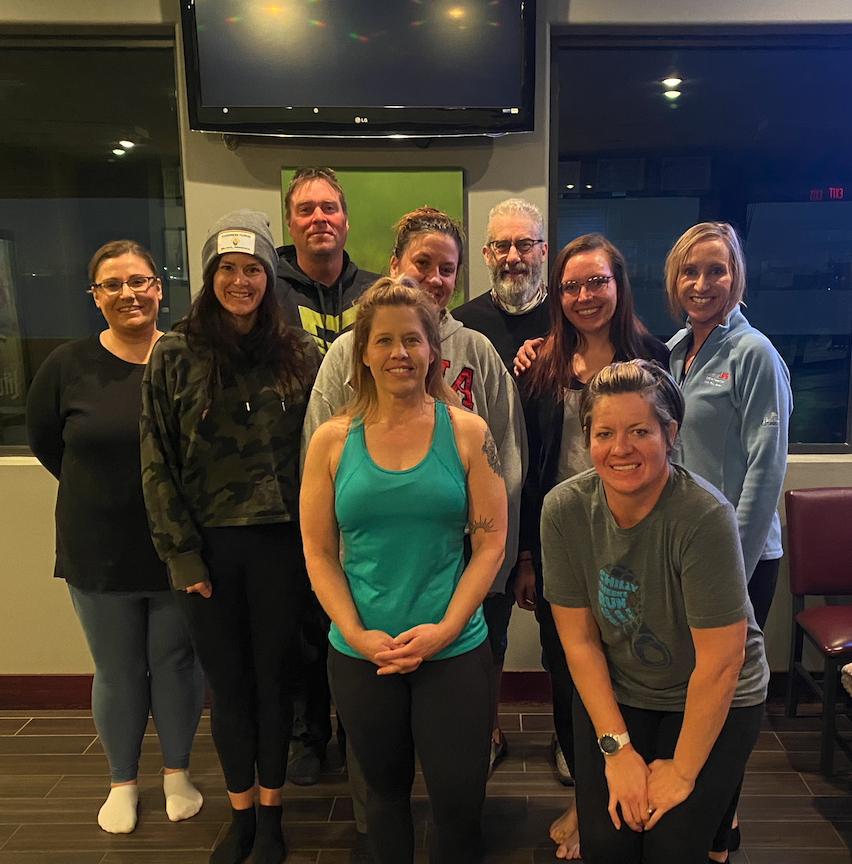 "One of the better times in the program is when one of the members of the group said they were having a challenging situation in their day and had lost focus on what AWAKEN was teaching," Venenga said.
"Everyone in the group rallied around the member, and everyone had a great discussion about how every day isn't always going to be sunshine and rainbows. Some days are tough, and it takes time and hard work on yourself to get through challenges. That is when the group became closer and all the AWAKEN tools became even more helpful."
The GreatLIFE AWAKEN program is $50 and open to members and nonmembers. Participants will be accepted until the next group is full. To get connected, email [email protected].